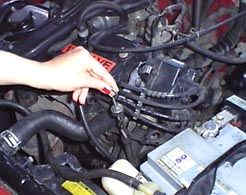 Place your car at a level surface and engage the parking brake. Start the engine. Set transmission shifter in "P" (Park) position, and let the engine idle (on some cars this procedure may be different, check the owners' manual for details). Pull the transmission dipstick. Check your owners manual to find where transmission dipstick is located in your car.
Wipe it off with a clean lint free rag. Then insert it back carefully all the way down into its place.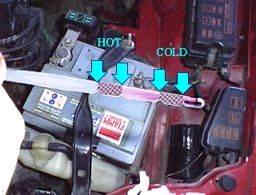 Pull again and check the fluid level. If the engine is cold, it should be within "COLD" marks. If the car was driven and is fully warmed up, the level should be at the upper end of the "HOT" mark. If it's just a little bit lower I wouldn't worry about it. Otherwise I'd top it off.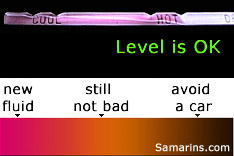 Check the fluid condition also: If it's too black and dirty with burnt smell – your transmission is not going to last. Normally it should be clean and transparent, as in the image. The new fluid comes red. Over the time it becomes brownish. If it is brown, check your owner's manual, may be it's time to change it. Some manufacturers require to change the transmission fluid at 30,000 or 50,000 miles others specify that you never have to change it – check what's your car owner's manual says.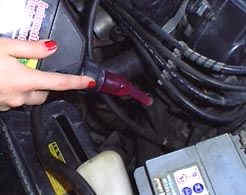 How to top off the transmission fluid:
It's very important to use only specified transmission fluid – check your owners manual or simply visit your local dealer, they alway have proper transmission fluid in stock. Incorrect transmission fluid can even destroy the transmission. Add a small amount of the fluid through the dipstick tube as shown in the image. Wait for a few minutes – let the fluid to flow down. Recheck the level again. Do not overfill, it also may cause problems with your foaming transmission fluid.